A saxophonist for proposal (New York, 2018)
09.06.2018
Views: 951
When it comes to making a proposal to the best girl in the world, all is fair. Of course, there exists no universal solution or fit-it-all plan in such subtle a case. It mostly depends on you both and your girlfriend's tastes especially. However, it's common knowledge there are some actions that could make any heart melt – so long as you make them aboveboard.

You wanna know what I'm talking about? Feelingful saxophone accompaniment for a romantic proposal, flavored with a picture-book view, champagne and strawberries and a sparkling diamond ring are among these things. A surprise effect, as well.

Luckily, as a professional saxophonist I quite often stand by such touching events – mainly, proposing to a girl to sax accomp. And it is one of these stories I'd like to share.
Let me first set the scene.

One: we have Slava and Lilly, they are living in New York. The guys have been in love and strong relations for a couple of years. They are really good-looking and soulful, and a handsome couple on top of all. I had a chance to see Slava in live while I got to know Lilly from the photo. This was the impression I got from seeing them for the first time. And, truth be told, it only became stronger as I got to know Slava better while we were preparing a musical surprise for his marriage proposal. I had a clear understanding of how important this event was going to be for him and them both. Including the proper sax accomp for the proposal, of course.

Two: we have a scenic location that could simply take your breath away. If only you could be there with me… I bet you will never stay indifferent to that summer greenery. Slava couldn't go wrong with the spot: it is a lively park between the Brooklyn Bridge and Manhattan Bridge. Don't forget the charming waterscape as a cherry on cake – there is the East River shining in the background in late afternoon sunlight. In a nutshell, it is a jaw-dropping view. Yet, that's not all.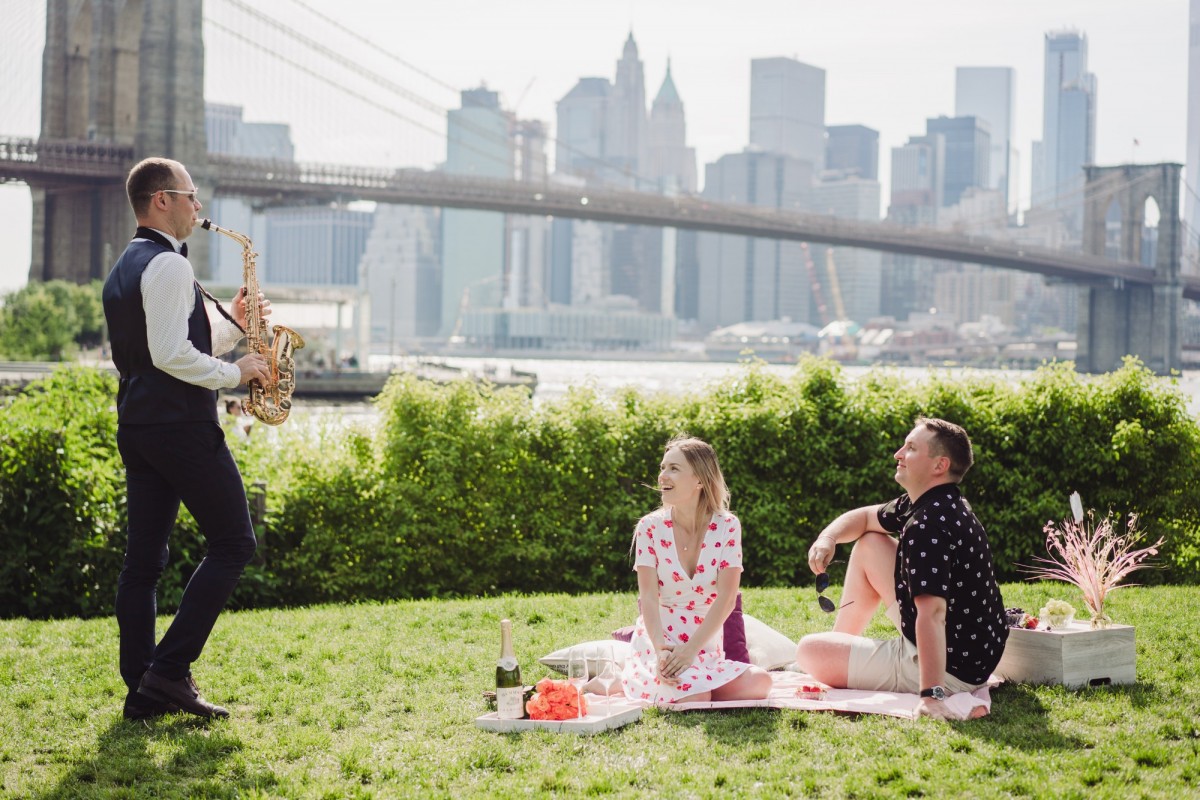 Three: Slava has really done his best to impress his future spouse. So, there's a canny picnic waiting for the lucky girl to come. Coupled with a pair of delicate wineglasses and a bunch of roses, the scene is already asking to be painted. At least, shot.

Four: but the main thing – the cornerstone of all the show, apart from the girl, of course, – is an elegant ring with a big diamond. Classics of the genre, you would say. Why not? Given that it's going to be a saxophone romantic proposal, it's a 100% hit. And this has been number five.

The event took place more than 2 months ago, in the heart of the summer, but I still vividly remember, like It was yesterday… Both of them come to the place. Oh my, how surprised and delighted she is. And how beautiful in her light summer dress. They quickly get very cozy on a plaid and start drinking champagne, chatting merrily and enjoying the day. You could call me a dullfish – but again, the spot (called Jane's Carousel) deserves a dozen looks. Here, see for yourself!

And then, all of a sudden, he does what every girl would dream of: stands on his knee and says to Lil, 'Love you so much. Will you marry me?'. I guess you know the answer. I could see him fidgeting and her – crying. And then smiling. So as to cry again.

All in all, I'm happy to hold my hands to making people happier with the sounds of my saxophone. There are many new stories to come, I am sure.